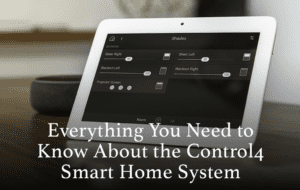 Living in an automated home is no longer a fantasy. Today, anyone can install a smart home system to connect and control their entire home from one device. Homeowners are embracing the idea of living in a smart house, and the world's biggest tech companies are beginning to listen. The market is slowly becoming saturated with different smart home technologies — from Amazon Alexa to the Google Home Assistant — all competing to make their way into your home. 
Among all of these available systems, one, in particular, is worth noting. If you've done even a little research about the best home automation systems on the market, you've likely come across the Control4 smart home system. Developed over 15 years ago and continuously improving, Control4 is considered by many to be the best solution for those in need of a reliable high-end smart home setup. 
But what sets the Control4 system apart from its competitors? Let's take a look.
The Control4 System, At a Glance
The Control4 smart home system consists of the following key components:
Controller — The controller connects all of your electronic devices under one system. It also receives and executes commands made with the user interface.
Software — Embedded within the controller, the software sets the rules for the different systems in your home. Thanks to Control4's easily modifiable software, you can add subsystems and alter rules easily. As Control4 continuously refines its software, users can expect updates that expand the capabilities of their home system.
User Interface — This allows users to control the Control4 system. The Control4 interface is simple and easy to use. It gives users immediate control of all of their electronic devices. It is here that users also set and modify rules for their homes (ex. Users can set a timer to dim their living room lights in the evening). The Control4 interface can be accessed via tablet, wireless touch screen, smartphone, TV, or Control4's own remote control.
Subsystems — These are any electronic devices or systems that can connect to the Control4 controller. These include your TV, security, lighting, smart speakers, and even your HVAC system.
What Are the Capabilities of the Control4 Smart System?
After professional installation, the Control4 provides users with several useful features. The most commonly used among Control4 owners are: 
Various Interfaces — Control4 offers a variety of hand-held controllers, in-wall touch screens, and tabletop touch screens. Users can use any of these items to control their homes. The Control4 app is also available to download, allowing users to turn their personal smartphones and tablets into easy-to-use control panels.
Music Control — Compatible with virtually every major streaming service, you can listen to the music of your choice in any room of the house. You can even play music throughout your entire home.
Lighting — By purchasing Control4's smart dimmers, switches, and outlets, you can control virtually anything in your home that requires electricity. From your touch screen, you can turn lights on and off, dim them, and even set timers for preset configurations.
Security — Users can integrate electronic door locks, intercom systems, surveillance cameras, and alarm systems to keep their homes protected.
Temperature Control — With a Control4 smart system, users can control their thermostat and even control their blinds, should automatic ones be installed.
Why Choose the Control4 Over Other Smart Home Systems?
Why install the Control4 system? It's in the name — this smart home system offers homeowners ultimate control. Unlike most systems, which require homeowners to purchase all smart home components from their own brands, Control4 is dedicated to providing users with easy integration. The Control4 system is compatible with over 35,000 electronic devices and services. These include:
Nest products

Philips Hue lighting

Sonos speakers

Apple TV and Apple Music

Spotify

Netflix

Alexa & Amazon Music

Google Assistant
If you've already invested time and money into smart home technology from other manufacturers, you won't have to worry about tossing those items away after your Control4 installation — No matter what product you have, it can likely be implemented in your new system.
Installing the Control4 Smart Home System
Integrating a Control4 system for your entire home is a complicated process, so homeowners should seek a trained dealer for installation. A professional Control4 provider will help you identify the goals you wish to achieve with home automation, and suggest the right Control4 products for your home. A professional installer can also integrate any applicable third party systems, and download software updates down the road.
If you're interested in installing a Control4 smart system at your GTA home, GenCorp Homes has the products and expertise needed to get the job done. Contact GenCorp today to learn more.