Light Gauge Steel Framing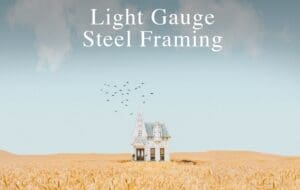 Light gauge steel framing provides structure in buildings and, compared to traditional wood framing, is pretty. The major difference is that instead of wood, thin steel pieces are used. Light gauge steel framing can be shaped at room temperature in a process called cold-formation, specifically because of that lighter weight. This is a far cry from the usual molten-hot temperatures thicker pieces of metal need to be formed. 
Since the 1950s, light gauge steel framing has been known for its durability, thanks to the fact that it is galvanized in a combination of aluminum and zinc, a step meant to protect it from corrosion. Light gauge steel framing is also used for both non-load-bearing and load-bearing walls, in the interior and exterior of the structure, in this case, homes. While the benefits of light gauge steel framing aren't hard to see, many don't see the full span of positive qualities.
What are the Benefits of Light Gauge Steel Framing?
Lightweight: This type of steel is quite a bit lighter, by up to 50%, which surprises many people. The fact that it's relatively lightweight also makes it much more sustainable to transport it.
Durability: Compared to wood, this is more substantial and lasts exponentially longer.

 

Strength: Light gauge steel framing is so strong that studs can be up to 25 inches, as opposed to the typical 20 or so inches, which reduces the number of studs that are needed to frame a wall.

 

Termite-Safe: It's resistant to those pesky and downright disastrous termite infestations.

 

Fire-Resistant: Light gauge steel framing is widely deemed to be fire-resistant. Note that just because something considered fire-resistant does not make it fireproof.
Moisture-Repellant: Thanks to the fact that light-gauge steel framing is galvanized, it's also resistant to moisture damage.

 

Keeps its Shape: Unlike wood frames, which can become warped over time due to moisture damage and dry rot, light gauge steel framing is almost unwavering in its ability to stand firmly.
Sustainable: Due mainly to the large carbon footprint of harvesting and transporting wood, light gauge steel framing is a far more sustainable option. It's also 100% recyclable.

 
What are the Downsides of Light Gauge Steel Framing? 
While this type of framing does have many benefits, there are also downsides, especially if you're trying to keep costs of material and labor down.
Cost of the Materials: Because the price of steel fluctuates regularly, it's hard to give an exact percentage as to how much more expensive steel is than wood. However, as light gauge steel continues to be equally, if not more popular than wood frames, expect future prices to reflect that moving forward.
Cost of the Labour: thanks to a marked increase in complexity of putting the frames together, the costs can skyrocket quickly.

 

Less Energy-Efficient: Compared to its competitor, wood, light steel framing is not a conductor of heat and cold, making it a less than ideal insulating material.

 

Low R-Value:

 

R-value represents an insulating product's ability to resist conductive heat flow by up to 50%. Reducing the flow helps control the climate and ensures more consistent temperatures inside the home. You can have the frame covered in insulating foam, which does a tremendous job of insulating, but again, therein lies another added cost.
Extended Construction Times: Because it is not possible to use nails with light steel framing over fasteners and screws are employed, there's an increase in how long it takes for related projects to be completed.
Less Sound Insulation: Unlike wood, which does a good job of controlling the passage of sound between rooms of a home, light gauge steel framing is not nearly as effective in this category, though as mentioned earlier, spray insulation can do a fine job of remediating this issue.

 
Light gauge steel framing is an ideal selection for a residential build thanks to its durability, consistency, and moisture-repellence. It is not without its challenges, which include a complicated and laborious building process as well as cost. 
Selecting the most suitable frame for your new home is a demanding task, but when you work with a developer and builder like Gencorp Homes Inc., no stone is left unturned and our top priority is client satisfaction. If you are interested in working with an honest, hard-working development team with an aptitude for the flow of design and durability, look no further than Gencorp Homes Inc.