Fibreglass Sound Insulation vs. Roxul Safe and Sound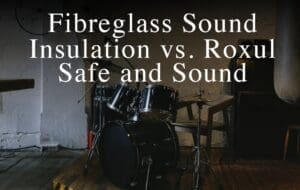 When it comes to the world of sound insulation, the first thing you need to know is that more is more, within reason, of course. There are two types of insulation that we'll be looking at in this blog: fiberglass sound insulation and Roxul Safe and Sound. We'll break down the pros and cons of each to help you decide which is the most suitable option for your project. 
While residential insulation is certainly not a new phenomenon, the technology has advanced exponentially, and the ability to keep the cold and sound out has evolved greatly. First, there are a few things to know about the installation and approaches used in residential insulation.
Insulation 101
There are a few strategies experts employ to increase the effectiveness of insulation. See below for the main modes:
Decoupling/Staggering: by adding space between the ceiling and the wall, the sound that transfers is noticeably decreased.

 
Increasing Mass: an increase in mass makes it much harder for soundwaves to sneak through.
Dampening: used to stop sound traveling between floors or rooms.
Absorption: insulation is ultimately meant for absorbing shockwaves which means that when a sound passes through each layer, the amount of energy, or the volume, should decrease considerably.
Soundproofing and Sound Absorption
There are four parts to soundproofing – decoupling, mass, damping, and absorption. Decoupling is about separating walls and ceiling into layers to decrease sound transfer.
Adding mass makes it more difficult for sound waves to pass through. Damping prevents sound from vibrating from one layer to another to travel into another room or floor.
Insulation is about absorbing sound waves. Whether you're trying to prevent sound from being transmitted into other rooms or trying to improve the sound quality within a room, insulation works.
Soundwave vibrations penetrate the insulation. Some of the vibrations are absorbed and converted to kinetic energy or heat, reducing the number of sound waves passing through or returning. The argument here is what insulation works better, Roxul, or fiberglass.
Fibreglass Sound Installation: A Discovery
Fiberglass sound installation is a type of plastic wool embedded with tiny glass shards. It's known primarily for its ability to control both vibrations and soundwaves and decrease hot and cold air movement, which is what causes uncomfortable changes in temperature inside the home. 
Uses and Benefits
Fiberglass sound Installation is typically used for heat insulation.
An industry standard for insulating floors, ceilings, and walls.
Years of usage mean lots of data and knowledge about fiberglass sound installation.
A variety of options and combinations of layers are readily available and used to best suit the home's soundproofing needs.
Fire-resistant, which is better than flammable, but not as good as fireproof.

 
However, there are some potential issues here. Fiberglass insulation is known to irritate eyes, cause rashes on the skin, and it is sometimes dangerous when old fiberglass is breathed in.
Roxul Safe and Sound: A Discovery
Roxul Safe and Sound is an insulation product made of stone wool. An insulator for residential interiors, it can be used for both steel and wood construction and is known for its acoustic performance capabilities. 
Uses and Benefits
Typically favored for sound insulation.
Fire-resistant, meaning that it will not produce smoke and will not emit any toxic smoke into the air.
Promotes a healthier indoor environment in terms of air quality
In addition to its fire-resistance, in the event of a fire in the home, Roxul Safe and Sound allows more time for the residents to act to put out the flame or flee the property/call for assistance.

 
Environmental groups take significant issue for the unsustainable way in which Roxul Safe and Sound is manufactured. It's essentially a mixture of chalk and rock cooked at a super high temperature for hours, and it can never be recycled or reused. It also creates the probability of unpleasant and potentially dangerous dust. It is effective, but it is most certainly not the most environmentally friendly option.
Which Option Is Best For You?
Both options are fine examples of insulation. However, Roxul Safe and Sound is more popular for sound insulation, and fiberglass is used for retaining temperatures and keeping them consistent. It's important to consider that geography will dictate the availability of both insulating material as well as the effectiveness (due to climate) of your choice of products.