The Importance of Air Sealing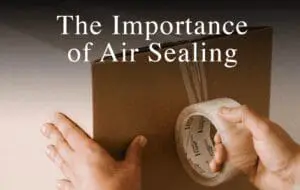 The ability to keep the heat out in the summer and keep it inside in the winter is a hallmark of a well-built home. GenCorp Homes builds homes for our clients to reflect the significance of design and flow, functional design, and its importance in investing in the highest quality materials and building standards and processes. Unfortunately, not every home is built at the highest-quality, which means air leakage issues can be a considerable challenge. 
When it comes to seeking out and treating leakage points within your house, the first thing to note is that air leakages tend to exist in the most inconvenient places, from nooks in the attic to the basement windows and crawl spaces. 
The Most Significant Issues with Air Leakage
Inconsistent temperatures: During winter, too much cold air can push itself into your home, especially in windy conditions. The same problem exists when it's warmer and less windy, and not enough air may enter, which leads to lackluster air quality.
Warm air leaking out of your home carries water vapor because of the moisture. Moisture tends to gather in attic spaces and wall cavities, causing your family to breathe in potentially toxic air.

 

Making the necessary fixes to these issues can be very expensive, invasive, and time-consuming.
Trapped humidity can also cause rotted roof sheathing, soaked insulation, growing mold, buckled siding, and puddles in the basement's corners.  See Air Leakage Control, Natural Resources Canada.
Ultimately the problem with weak spots in your home is that warm and cold air flows through them with ease. Weak spots lead to uneven and quite unpleasant temperatures throughout your home. Air should flow and distribute evenly throughout the house, and air sealing ensures there isn't a temperature loss inside the home. Air sealing ensures reduced or eradicated cold drafts and improved indoor air quality, and lower energy bills.
Ensuring your home is adequately sealed is beneficial to the environment and your wallet. They also make your home a more relaxing and comfortable space thanks to a temperate indoor climate suited to your taste. Addressing air leakages can seem arduous. If your home has heavily-seated issues, it may be time to consider building a new home that utilizes modern convenience and sustainability measures. In the meantime, it's imperative to discover the points of air leakage in your home. 
What Are the Significant Points of Air Leakage in The Home? 
Cracks and gaps could cause air leaks. They can be found in the areas surrounding:
Window glazing
Plumbing ventilation
Around doors
Wiring holes
Remember, If you're on the hunt for air leakages, it's best to wait for a windy day. While many issues can arise with air leakage in your home, there are also solutions. 
What Are the Different Ways to Air Seal Leakage Points?
Caulking is used in the situation of two different parts of your home or where two materials meet. There are countless types of caulking, with each having many different characteristics like flexibility, mildew resistant, paintable, and elastic.
Expanding foam is primarily used to fill larger holes, cracks, as well as any openings surrounding wire/pipe protrusions.

 

They are meant to expand and create a snug, tight seal that helps block out more extensive air leakage areas.

 

Weatherstripping is helpful for air leakages around doors and windows. To address a gap between the bottom of the door and the floor, invest in a floor sweep.

 

If the joint is bigger than ¼ of an inch,

 

backing material must be installed. Options here include expanding spray foam or using a backing rod for foam. Foam board and drywall also work well.

 
Additional Insight
If you're looking to lower your energy bills and live sustainably, there are other ways to keep the heat where it's supposed to be. Try these tips to keep your home temperate and comfortable, no matter the outside temperature.
How is the airflow? Inspect all the furniture and see if different pieces are covering vents, registers, and radiators.
Keep your curtains in mind. Make sure they have insulating liners that help regulate temperatures. They should be kept open during the day and closed at night.

 

Lots of floorboards? Cover them with rugs. Not only will it help create a cozier atmosphere, but it'll also stop as much as 10% of heat loss annually.

 

If you aren't using it, cover your kitchen hood. Best Life says that "your kitchen hood can also act as a passageway for cold air to get inside your house."
No matter the vision that you have for your new build, GenCorp Homes Inc. guarantees that your project will proceed with ease, thanks to an organized and stress-free strategy.